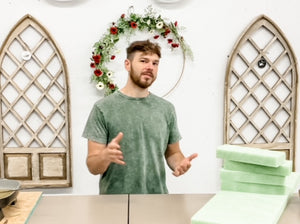 Welcome to David Christopher's! We are excited to hear you are interested in learning the basics of preparing containers for your artificial floral creations?  David has NEVER given away all of his decor secrets like he does in this one hour course. 
David has been professionally creating floral arrangements for over 15 years! When he was only 23, he won 2nd place in the American Floral Industry Association for his Christmas tree design. He competed against others from all over the United States.  He has won many other awards for his designs, as well. 
In this course, you will learn the following: 
Learn the differences in various types of foam so you can choose the best one for your project
How to choose, shape, and glue styrofoam into your container 
Tips and tricks on how to shape and score your styrofoam for any size container
How to attach your moss so it stays in place in your container 
Info on the best glue for your projects 
If you are serious about learning the basics of preparing your containers in a professional manner, this video is for you. Please note, we don't add florals in during this video. 

We are so confident you will learn something from this course that we are not able to offer refunds. This course is non-refundable. After all, we can't give away all of the secrets and then give you your money back. ❤️
Please purchase the course on the device on which you are going to use it. 
Once you complete your purchase, on the checkout page you will be able to download the course. You are only able to open the link and download it on ONE device, and it can't be shared with anyone else or emailed to another account. Please make sure you OPEN the course on the device where you are going to complete the training. 
Run time: One Hour 
Having Issues With Your Download? Click Here. 
Once you purchase the course, you will see a screen like the one below. Click on the link that is in green "Professional Series: Styrofoam, Moss and Container Basics.mp4 
Once you click the green link, your course will begin to download to your device.
Based on internet speeds, it could take several hours to download. After it downloads 100%, you can find it in your downloads folder. 
You should also receive an order confirmation email and an email telling you the course is ready to download with instructions. Check your junk folder if you don't receive the emails.  
If you have any questions before you make your purchase, please reach out to us at shop@davidchristophers.com We are happy to help. Happy creating!